Posted by Bob Biscigliano in Allen Iverson, convenient back injury, Detroit Pistons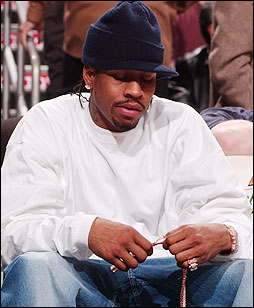 According to a report on MLIVE, Allen Iverson was told by doctors at Georgetown University that he must "suspend all basketball related activities for two weeks" due to his back injury. Iverson who has missed the last three games, will miss up to eight more games over the course of the next two weeks so get used to seeing him wear that Justin Timberlake snowboarding hat more often. If he is out for only the two weeks, he would return for the March 20 game against the LA Clippers at the Palace.

A lot of controversy as been centered around Iverson because he hasn't been fitting in with the Pistons system. The Stones are 7-1 without him this season and on a three-game winning streak against some pretty reputable teams (although all three were missing big parts of their team). Either way, it is pretty clear that the Stones move the ball better and play tougher defense without AI.

Although you should never wish injury on anyone, AI's back problem couldn't come at a better time for the Pistons. They were struggling mightily and falling fast out of the playoff contention. Once Iverson went down with his back injury the team was able to revert back to the way they have played for the six years--successful basketball. So far, it looks as if it's like riding a bike for them.

It will be interesting to see what kind of minutes AI gets when he does return, if he does. I would not be surprised if this back injury turns out to be more 'serious.' I guess we'll know more as the two weeks wear on.

The Stones are off for the next two nights and hit the floor again on Friday against Golden State in Detroit. The Warriors are just 2-5 in their last seven games and play Chicago tonight.