Posted by Bob Biscigliano in Big Aristotle, Cookie Dough, Rodney Stuckey, Shaquille O'Neal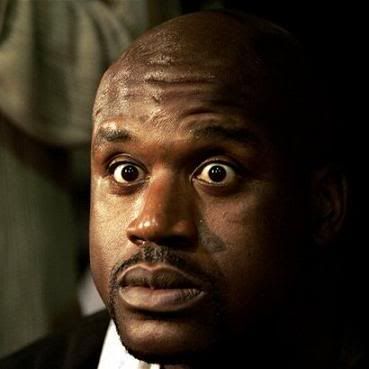 It's pretty late and I'm pretty hungry. I haven't delved into my tub of cookie dough yet and I'm not hungry enough to tell Shaquille O'Neal how his ass tastes. However, I couldn't help but laugh when I read the Pistons' game wrap up explaining how Shaq, also known as the Big Aristotle, was ejected.

Rodney Stuckey went up for a layup and Shaq committed a flagrant two foul on him that sent Stuckey crashing to the floor on his chest. A flagrant two foul is grounds for automatic ejection. The call was reviewed and upheld by Chief Justice Referee Ken Mauer. The Big Aristotle disagreed fullheartedly, and used a very scientific defense:

"The laws of physics say that a body in motion stays in motion. So if you have two objects meet in the air, the smaller object is going to fall much harder," O'Neal said. "I've never been the type of player to take anybody out, so I obviously went to the ball. The little guy ran into a brick wall."
Aside from Shaq's wisdom, this has been a shitty day. Period. P-U-R-E-U-D. The Pistons lost, Lions lost, tomorrow's Monday, I have a paper due, exams are quickly approaching, I probably have pink eye, and probably didn't even wipe my ass all that well after an afternoon poop (which most likely goes hand in hand. It sucks.) Excuse my freaking French.
Where's the cookie dough at?
UNITY