Posted by Bob Biscigliano in Detroit Tigers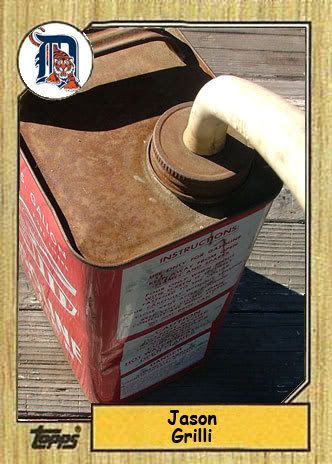 Gas prices are as high as Mark Buerhle on a Friday night. People are going to start whipping out their Schwinns to get to work and refuse pumping gas altogether. Honestly, it's a real pain like Carlos Guillen's hemroids. However, the gasoline that continues to get pumped daily into the Tigers tanks are the words of Jason Grilli from last month that still serve as fuel for the fire that has appeared to be just a flickering candle of late. With summer just a little over a week away, the Tigers are certainly terrified that their fall and winter will start before summer ever comes. This would be true if they did not sweep this home White Sox series. Well today, thanks to another stellar pitching performance and a Miguel Cabrera walk off home run, the Tigers in fact completed the 3 game sweep of the division leading White Sox and have started selling the above baseball card to fans across the universe for 2 pennies (price according to Becket magazines). Coming into the series 11 games back, the Tigers were in a virgin's desperate need to pick up some games to get back in the central division race. By playing the best baseball they have played all year, they were able to do just that and complete the sweep. Obviously, the sweep was amazing, but the Tigers are still 8 games back and have a lot of yard work to do. They are turning it around slowly but surely, winning 5 of their last 6 games against quality teams and have consistently been picking up big hits which has never happened up to this point really. Nonetheless, unless they are within 6 games of 1st place by the All-Star break, I don't think a 2008 Tigers playoff spot is in store. I hope they can stay hot and win 5 out of 6 for the rest of the season though.

I would like to end by mentioning how much I LOVE jinx jobs by tv/radio broadcasters...I have received only about 11 'jobs' of some sort in my lifetime, but have probably experienced a billion jinx jobs. One day I will compile it all into an award winning book but today I'll just mention the day's two best and most important jinx jobs:

1) In the top of the 9th inning with a runner on first base, Mario, the king of the jinx, mentioned that Paul Konerko has hit into 6 double plays this year. After Konerko fouls a pitch off he continues to work his magic by mentioning that he had grounded into a double play earlier that game too. Right as he finishes the jinx job, Konerko grounds into a HUGE double play that clears the bases for Todd Jones to get the final out in the 9th and take a 1-1 tie into the home half.
2) In the bottom of the 9th inning, radio broadcasters, Dan Dickerson and Jim Price, were introducing Octavio Dotel as the new White Sox pitcher. They did the normal height/weight/favorite porn magazine statistical read off, but followed it up with adding in that he had only given up 1 HR all season thus far. They were not afraid to really emphasize that stat-stating that he should probably be in the hall of fame probably. Next pitch, Magglio hits a for sure home run- but the wind holds it back. The jinxing Gods were pretty pissed at mother nature for this so they made sure that Miguel Cabrera would hit an opposite field, away from the wind, walk off home run in the next at bat. Thanks.
Now I know you are sooo eager to know, "How or why were you watching the game on television and listening to it on the radio too?" My answer to that is simple. I was driving in the car when the 9th inning happened. When I got back to the office, I simply rewatched the entire 9th inning on MLB.tv archives. Ernie Harwell would be very proud of my dedication and hard work to being a Tigers fan.
Please leave me some of your favorite tv/radio broadcasters' jinx jobs. It always happens. Joe Buck and Mario probably have 384,485,134 between the two of them. Leave your thoughts.
UNITY