Posted by Bob Biscigliano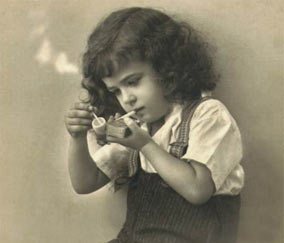 Leyland's granddaughter has taken up smoking because of the Tiger's recent struggles. Lineup change will help her quit.
Jim Leyland is out of cigarettes and is sick and tired of watching the Tigers inconsistent offense. As a result, he has said before Sunday's game that he will be making a drastic lineup change Monday night before the Tigers square off against the Boston Red Sox. Why not make the lineup change for Sunday's game? I'll tell you why wise guy. Sheffield is a part of this Tiger's lineup, whether you might like it or not. It was known for a few days already that he was going to be given Sunday off. Therefore, Leyland probably wanted to a) fire up the guys one more time before actually making the change b) wait for the home stand to begin so we can begin a clean slate with the new lineup and finally, c) wait for Sheffield to be in the lineup. The firing up part worked for an inning as we scored 6 runs but then we decided to put our bats on ice for the next 8. We were swept as a result. The Tigers will get the clean slate as they travel home to Comerica for a 3 game series with the Boston Red Sox. The drastic lineup change will surely get tested as they face Dice K and Tim Wakefield's knuckle in the first two games.
Jacque Jones has been the first part of the drastic lineup change as he has been designated for assignment. The Tigers purchased the contract of OF Matt Joyce (.299, 5 HR, 21 RBIs in 28 AAA games). This could very well be their new platooning LF with Marcus Thames. Another option however, is moving Sheffield back to LF so that AWFUL 3B Carlos Guillen can rest his egyptian mummy body and DH. This would allow future Gold Glover Brandon Inge to play 3B again. Below are MY predictions for the drastic lineup change and a brief reason why they will be in that spot:
1. CF Granderson (Has shown more power and ability to knock in runs but his OBP is .440 and way too valuable to move the spark plug).
2. 2B Polanco (on fire right now. It would be silly to move him from the spot he has dominated in for so long)
3. 1B Miguel Cabrera (maybe a move back to his old batting order spot will ignite him to the numbers he posts in years past)
4. RF Ordonez (RBIs)
5. DH Guillen (his body is frail, he no longer uses a glove to field thus making him a fielding liability. the BA spot is self explanatory)
6. SS Renteria (clutch hitting and nothing really else to say about this solid player)
7. LF Sheffield (has always hit better when playing the field and maybe a move to the bottom of the order will take some pressure off of him. Walks a lot so even if he doesn't hit .300 ever again, he is still way too valuable to not be in the lineup
8. C Pudge (no change here)
9. 3B Inge (18 errors at 3B last year... Guillen made 17 in a 1/3 of that time at 3B 5 years ago when he was younger, healthier, and more mobile. I think we can deal with Inge's .250 avg if he continues to flash the leather and has some pop here and there.)
I guess we will see tonight how effective the new Tigers' lineup will be. I'll post more after the game.
GO CATS